Usage Dashboard
Our dashboard shows you real time usage information for all your lines across all your USA carriers (AT&T, Verizon, Sprint, and T-mobile). You can easily monitor where your company is at with usage in seconds. With this tool, you can create usage allotments so that you will be alerted in the event of high individual or group data usage, international usage, or lines without use to avoid overages and trim costs down.
Watch Demo of Reporting Dashboard

Overage Prevention
Our system will allow you to create individual usage allotments for data, international roaming, voice minutes, and text messaging so that you can be alerted by email in the event of a projected overage or misuse.
24x7 Helpdesk
Live answer wireless Tier 1 help desk for advanced technical support. Onboarding of devices and MDM integration. Tier 1 helpdesk to assist end-users for service requests or troubleshooting.
Account Management
With our Pro Package we will provide a support team to handle all service requests such as plan changes, international plan add ons, suspensions, cancellations, and all other customer service related issues acting as a single point of contact for your company's cellular needs.
Order Support
Peak Mobile can fulfill all the ordering of new lines of service and upgrades with your carrier. We inform you of special promotions that will save you money.
Billing Breakdown by Department and Cost Centers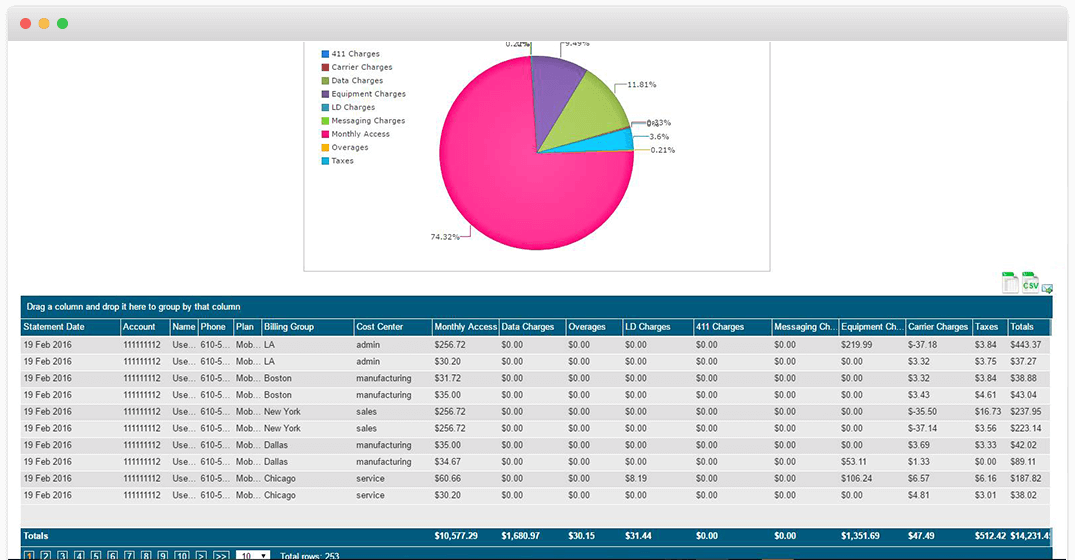 We can provide one billing report showing a cost breakdown for all your lines of service across all your US carriers. We customize a report with your company's cost centers, departments, or billing groups into a detailed automated monthly report when your bill is downloaded by the carriers. Most companies are creating these reports manually and can require a significant amount of data entry. We make it easy and simple saving you time!